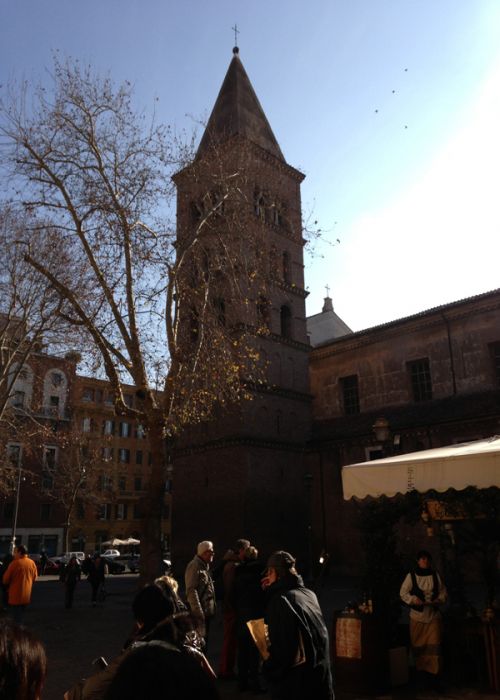 The church of St Chrysogonus, one of the oldest churches in Rome, is often overlooked by visitors but it is surprisingly beautiful, a perfect example of how different periods have left their traces over the centuries. Let's begin the visit looking at the exterior: a bright 17th-century facade has been added to a medieval structure. In ancient times the church looked like this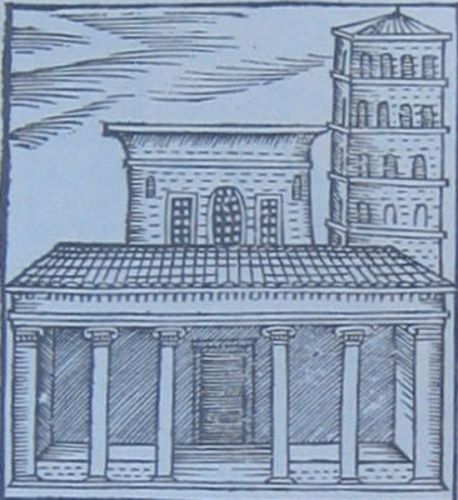 The bell-tower dates from the 12th century. It was modified with the addition of a pyramidal spire, as in the basilica of Santa Maria Maggiore. In the 18th century, Cardinal Scipione Borghese, a powerful patron of the arts, commissioned the architect Giovan Battista Soria to undertake a major renovation and had his name written over the facade.
Entering the church, you are immediately struck by the quiet and dark medieval atmosphere, the traffic noise is left behind. Be careful, you are walking over one of the most beautiful and well-preserved 13th-century mosaic floors in Rome. During the Middle Ages, a family of artists, called Cosmati made a great number of decorations out of the remains of ancient Roman colored marbles. These geometric patterns also had a practical purpose: they divided and mapped the floor into specific areas which facilitated processions on feast days.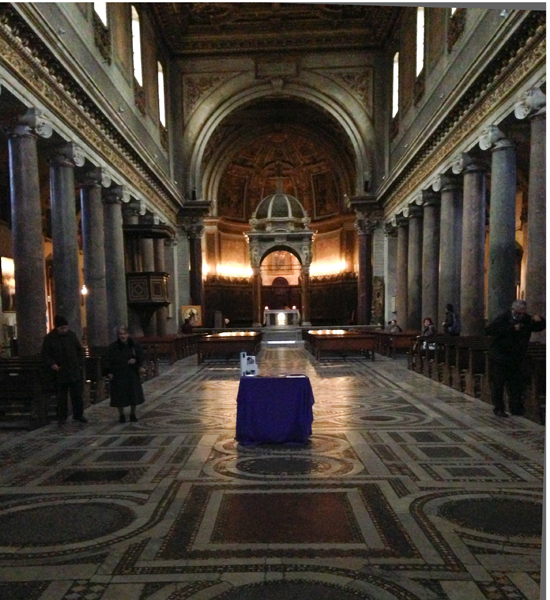 Twenty-two ancient Roman columns separate the nave from the aisles: it is a typical plan of the early Christian basilicas in Rome. The large Ionic capitals in stucco were added in the 17th century. The gilded wood ceiling was also added in the same period. In the centre is a copy of St Chrysogonus in a Glory painted by Guercino.
The triumphal arch is supported by two monolithic porphyry columns - the biggest now in Rome - while the granite and porphyry columns supposedly belonged to the baths built by Emperor Septimius Severus in Trastevere.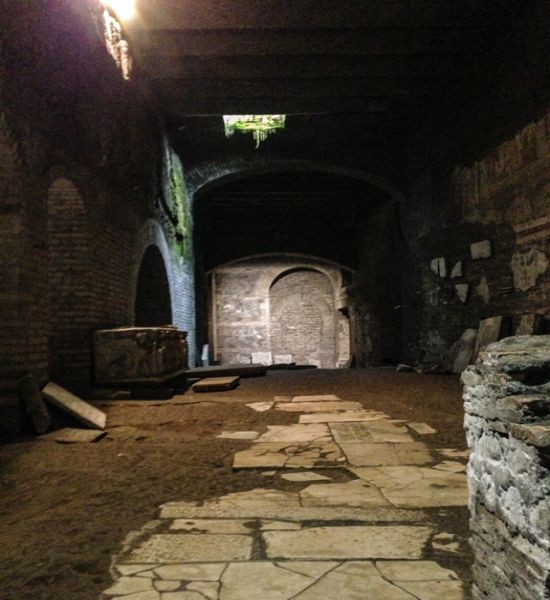 However, the most spectacular feature of the church lies underground where the remains of a Roman domus and the early Christian basilica can be found. The domus probably dates from the 3rd century AD, when Christians were still persecuted by Roman emperors and were forced to pray in secret. This house was used by a very early Christian community and part of its brick masonry still survives. Later, the domus was consecrated as a church and during the 5th century a basilica was built here. Its unusual structure, typical of Eastern architecture, reminds us that Trastevere was an immigrant area where different religions and cultures mingled.
The excavations cannot be completed because the foundation of the upper church still obstructs the ancient structure, thus preserving the mystery of the many remains. They include the apse and the walls of the crypt, built to give access to the martyrs' shrine; the frescoes dating to the 8th and 10th century; the baptismal font and the numerous Roman fragments; and a 6th century altar and marble sarcophagi since parts of the basilica were used as a burial site.

0039 06 5810076 - 06 5897192

Weekdays 7.00am-11.30am 4.00pm-7.30pm Holidays 8.00am-1.00pm 4.00pm-7.30pm Visit to the excavations: Weekdays 7.30am-11.30am 4.00pm-7.00pm Holidays 8.00am-1.00pm 4.00pm-7.00pm
Excavations: € 3,00
Piazza Sidney Sonnino, 44