Details

Category: Italian
Last Updated on Saturday, 25 July 2015 18:05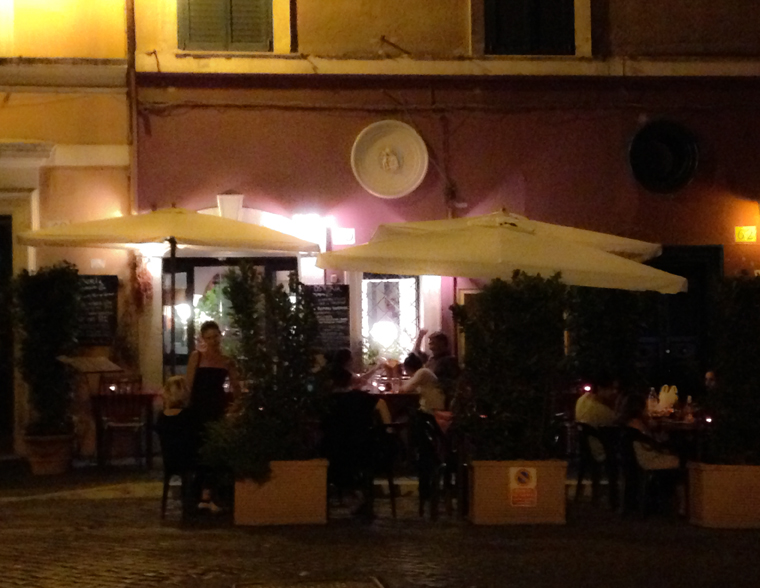 This cosy "osteria", with its tables on one of the most beautiful streets in Trastevere, the tree-lined Via Garibaldi, was opened by Samantha and her mother Nicoletta in 2012.
On one summer evening, I went here with some friends and tasted a great "strozzapreti". It means "strangle the priests" and it's a short traditional pasta made with wheat and water. It was served with pork cheek lard, zucchini and pecorino cheese. I then had a good bottle of red wine and a slice of applepie.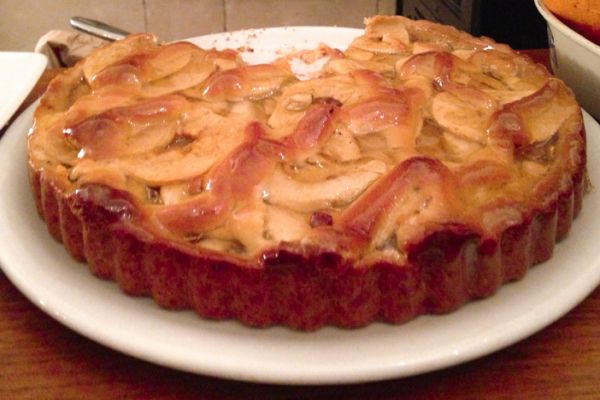 Later, I had a little talk with Samantha, who speaks fluent English and Spanish. I asked her to tell me something about herself and her restaurant ...
Q: When did you begin your business?
A: My parents have had restaurants all their lives, I opened this restaurant eight months ago, I left my previous job to do this.
Q: You worked as an interpreter…
A: I graduated in political science, then I worked as an interpreter for many years, I lived in England for quite a while, I was married to an English architect for seven years.
Then I came back to Italy around eight years ago and I said to my mother: "Let's open a restaurant" and we began again.
Since we have always lived in Trastevere we wanted something in Trastevere and after a year and a half of research we found the right place for us. It's small, but it is on one of the most beautiful streets in Trastevere and it is just what we wanted, even though it is still a work in progress. Slowly the word is getting around, also on Tripadvisor there are enthusiastic reviews.
Q: Who is working in the kitchen?
A: My mother Nicoletta is completely responsible for the kitchen, that includes the shopping and the menu which we decide together. That depends on the season, so in summer you will never find artichokes or porcini mushrooms here.
Q: What kind of cooking do you do?
A: We do traditional Roman cuisine, the kind of food local families cook at home. For example we have the "crostone alla vignaiola" which is made with bacon fava beans, artichokes and lettuce, and the frittata without eggs, which our grandmothers used to make, using potatoes, tomatoes and onions. We also have the "pasta dell'oste" with zucchini, bacon and pecorino cheese.
Since my mother also worked overseas as a cook for 40 years we also offer international dishes including veal scaloppina with apples and cognac and pepper steak.
Q: Tell me about your favorite dishes
A: One of our most popular dishes is the "spaghetti della nonna", with tomato sauce and small meatballs, that my grandmother used to make for us four grandchildren every Sunday. We make the lasagna ourselves with béchamel sauce and ragu sauce which is cooked for two hours. We make the tiramisù as soon as it's ordered, and it creates a very special flavor. We don't use any frozen products, all our food is fresh and nothing is prepared in advance.
Among the restaurant's other "signature dishes" is the "pasta alla puttanesca": it is a perfect meal for summer with fresh tomatoes, olives, capers, anchovies, parsley and basil; and the "bavette alla fiumarola" a spaghetti-like pasta with tuna, arugola, garlic, oil, chili pepper and fresh tomatoes.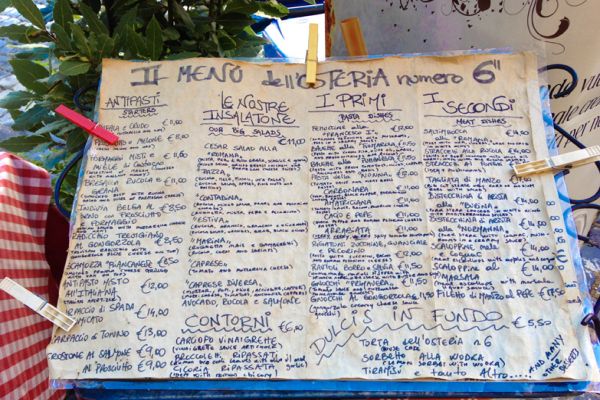 Q: I've noticed that you give particular attention to the wine list
A: Yes, we are constantly improving our wine list. I personally taste and choose the wines that we offer to our clients and we prefer to choose wines from small producers. I believe in working with small firms. When I select a wine for my restaurant I want to know the winemaker and his production methods. Maybe you won't find those wines in supermarkets, but I can guarantee they are genuine.
Later, we'll add more complex and expensive wines to our list.
Reservation is recommended, especially at weekends.

0658300389

lunch and dinner - closed: wednesday

15-25
Via Garibaldi, 60