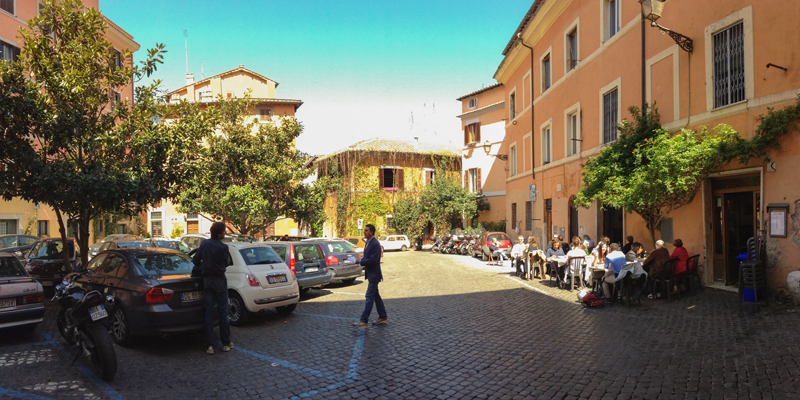 One of my favorite places to go and eat a simple but tasty meal is the trattoria "da Augusto", a very popular trattoria, where locals and tourists mingle at lunch and dinner. Now it's run by Sandro, Augusto's son, but it never followed the latest fashion and still maintains the same furniture and style of the beginnings.
It is loved by young people and by old Trastevere families too. Some of them meet there every day, ask for their quartino (a small measure) of red or white wine and start chatting about politics, soccer or relatives. As in many trattorie in this neighborhood, tables are very close to each other, and it's not the best place if you looking for a quiet, intimate rendezvous!
In winter days, people would fill the two small rooms inside, but as soon as the weather is fine enough, a number of wooden tables with paper cloths are added outside, on the nice and quiet Piazza de' Renzi.
I would say that by "Augusto" the old Roman culinary tradition is well respected, so that every day of the week has its special dish: fish on Tuesdays and Fridays, gnocchi on Thursdays and trippa on Saturdays. The service is rather brisk but friendly, with young waiters delivering generous dishes of rigatoni all'amatriciana, alla gricia or carbonara. A crusty, delicious bread can accompany boiled beaf, seppie con piselli, veal involtini or roasted rabbit.
Don't miss a slice of the homemade desserts, either a fruit cake or ricotta and chocolate cake.
It is still one of the less expensive trattorie in Trastevere, as you will see when the waiter writes the bill down on your tablecloth!
I would suggest to go there early in the evening or be prepared to wait outside, as Augusto doesn't take reservations and can boast lots of aficionados!

0039 06 5803798

Every day 12:30-15:00 20:00-23:00

15,00 - no credit cards

Piazza de' Renzi, 15