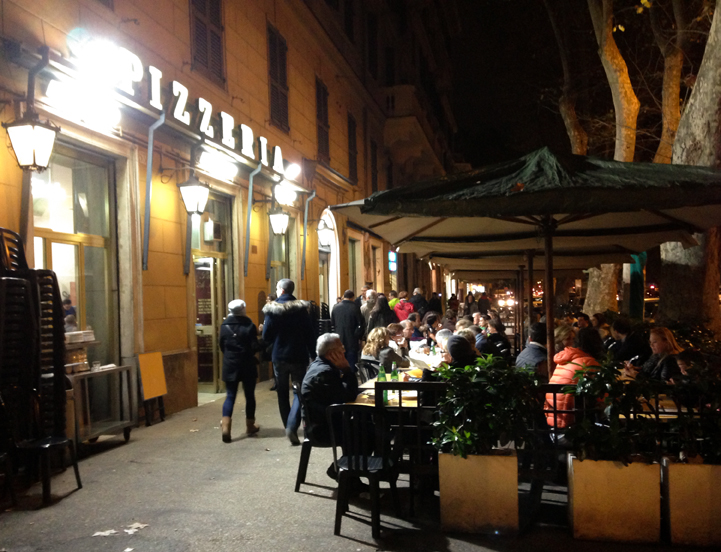 Best known by Romans as the Obitorio (Morgue) because of its long marble tables and fluorescent lights, this pizzeria makes for a gastronomic and cultural experience.
Reservations are not accepted, and each night after 7.30/8.00 PM the two rooms and the tables outside are full, so get there early or you'll have to wait for a table. Yet the line moves fast, and once you are seated don't expect to have any privacy, as there is no space between tables, and you'll find yourself elbow rubbing with the Italian mega families, and this is part of the fun. Actually, this is a rather noisy place, where tourists are outnumbered by Romans, and you have to talk loudly if you want to be heard!

You'll get no tablecloths, the speedy waiters will bring you only glasses, cutlery and paper napkins, but the food here is really tasty and inexpensive. As starters, you may have a great choice of typical fried dishes as supplì, zucchini blossoms with mozzarella and anchovies, mackerel fillets and olive ascolane ( fried big olives filled with meat).
The staff at the large wood-fired oven prepare and deliver pizze non-stop. It's the very thin Roman kind of pizza, with a great variety of fresh and tasty toppings.
Another specialties of Ai Marmi are its home made desserts, among which the tiramisù is the best!
For drinking, you can ask a bottle of beer or the red or white wine of the house.

Sitting outside is less noisy, even if the tables are set on the sidewalk of the busy Viale Trastevere. Strange enough, you don't hear the cars running nearby and you are able to enjoy both your pizza and the conversation.

18:30-02:30 - Closed on Wednesday -

-

06 580 0919
Viale di Trastevere 53/57